This very cool e-book by Matt Stansberry on TechTarget's SearchDataCenter covers green computing and data center energy efficiency -- and explains the forces driving IT energy consumption, why you should care, and how you can mitigate the problem.

In particular the 5th installment really sums things up: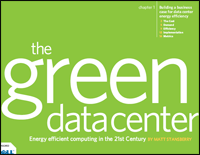 Chapter 5: A step-by-step guide to greening the data center
The previous four chapters of this data center efficiency eBook laid out the case for going green in the data center and the tactics to achieve energy efficiency across the server, storage and infrastructure environments. This final chapter helps IT managers pull it all together and execute on a data center efficiency project, step-by-step.
Step 1: Convince the C-Suite to pursue energy efficiency. How much do you spend on energy now? How soon will you have to build a new data center to keep up with your company's growth? Use that information to get a mandate to pursue efficiency from the C-Level executives.

Step 2: Measure data center energy consumption. Set up a simple metric like Power Usage Effectiveness to get a baseline of how much power is going to the servers and how much is being lost on cooling and infrastructure. Set goals to improve the ratio.

Step 3: Get started with IT asset management. Tackle IT inefficiencies by consolidating applications, deleting deadweight servers, implementing active power saving features and specifying energy efficient hardware.

Step 4: Tackle facility fundamentals. Implement hot-aisle/cold-aisle, seal up that floor, raise the voltage on your PDUs from 120 to 208 and take advantage of free cooling when available.
There are also some very clear operational recommendations regarding power management, as well as "active power myths" that dispel the traditional objections to certain operational conducts.